Heroes of Primitive Skills, Michigan-Style
March 29, 2010
I'm sure there are plenty of great primitive skills instructors everywhere, but my hunch is that we're lucky here in Michigan to have the people we do.

I've just been impressed whenever I encounter them.

Their calling is a noble one. Kids and people's lives are surely changed.

Helpful contact with the Wild and with the Heritage behind it both really help people take big steps into better appreciation of reality, I think.

Some folks probably don't like the term "primitive." I know a master craftsman who says there haven't been any skills or artifacts more highly developed than some of these (such as the skin kayak). Thus, I note them also being called Pathways or Lifeways.

These guys are also neat to me because they work in multiple worlds yet also independently. They're on their own. They're in the schools. With kids. With adults. Doing some supplies retailing. Making movies. Inventing it as they go. But staying connected to their roots.

I know that I'm grateful for the outdoor help I got when I was a kid. For Ron Bacon who came to our school and showed us stuff. He had teachers who'd call him in when their curriculum timing was right -- his presentations seamlessly dovetailed with books like "My Side of the Mountain." We'd be reading about kids interacting with the wilderness, watching a movie like "Paddle to the Sea," and Ron would come in and show us about animal tracks and trapping, in real life. He even hosted a winter campout for all 4th graders where I learned about snowshoeing, XC skiing and ice-fishing for the first time. I hope that kids are still taught this kind of thing today!

There's a fresh young breed of outdoor skills instructors on the Michigan scene now.

*Kevin Finney -- www.pathwayscrg.org

*Erik Vosteen -- burntmud.com

*George Hedgepeth -- briarpatchoutdoors.educationforthesoul.com

These guys are friends and sometimes work together but also their their own gigs.

I'm sure there are more. These are just a few who I've bumped into. And I feel fortunate to have done so.

And, of course, Primitive Skills aren't the only area in school to get a special dose of outdoor lore from independent heroes. The Enviro Ed movement is a whole other growing sector out there. The "gardens in the schools" consultants and volunteers are another area, too.

Kevin and Erik have done projects with an amazing elementary public school on the west side of the state, the Goodwillie Environmental School in Ada, MI. I believe kids enroll on a lottery basis. www.fhps.us/goodwillie

I'm including a few pics from a couple dugout canoe projects they did with the 5th graders there. Erik says that 5th graders are the hardest-workers he's ever done a project with.

They cut down a tree and made a canoe using stone-age tools and methods. It's truly mind-boggling to me.



www.youtube.com/watch?v=lz2PpDlIjEY

Here's a link to some amazing background on the project: www.pathwayscrg.org/Project_Portfolio/Pages/Early_19th_c._Dugout_Canoe.html

Erik and Kevin also make props and sets for the movie industry, when they need authentic Eastern Woodland Native American stuff.

Erik is big on primitive ceramics. He has a secret place he gets his mud. He'll also drop a bunch of fungus on you, if you're not careful.

Kevin seems to have an Irish background yet I think he's the official Potawatami language instructor for the tribe, a role he is humbled and honored to serve, I'm sure, having worked hard with elders to get where he is.

George teaches a wide range of subjects and has an amazing social skill. To me he's a combination of forces that you don't often see in one person.

Kevin recently released a DVD documentary of the Black Ash Basket. Huh? A movie about a basket? Well, it's a basket whose story includes a beetle, the fate of the ash tree, and the ongoing heritage of Michigan's Potawatami people...a culture which seems likely now to disappear. www.pathwayscrg.org/Ash_Basketry.html

Kevin also highly recommends a visit to the Ziibawing Museum in Mt. Pleasant. www.sagchip.org/ziibiwing. He says it's a good one.

I met all these guys in connection with the very low-key, high-output and very family-friendly (affordable, multi-generation) Bois Blanc Primitive Gathering held annually in early August in the Straits of Mackinac. I've reported on our family visit elsewhere at OYB. www.michiganatlatl.org/great_lakes_primitives_summer_gathering (there's a Facebook Group with new info)

Here are some pics I poached from Kevin and Erik's sites, in no real order, from their two projects making dug-out canoes (a large and a small one) with 5th graders...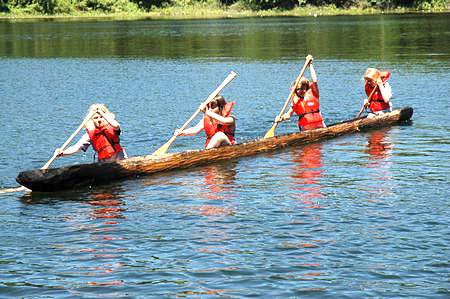 Kids paddling dugout.

Give it a try.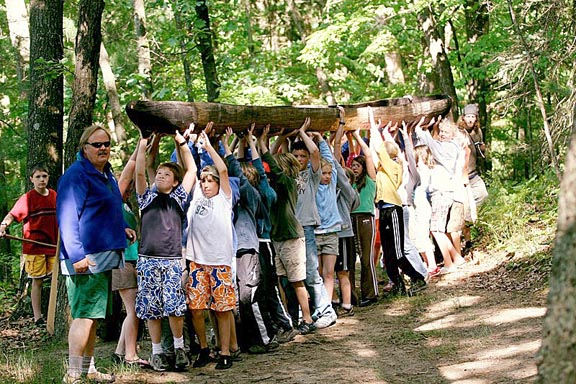 Launch day.

Kids working.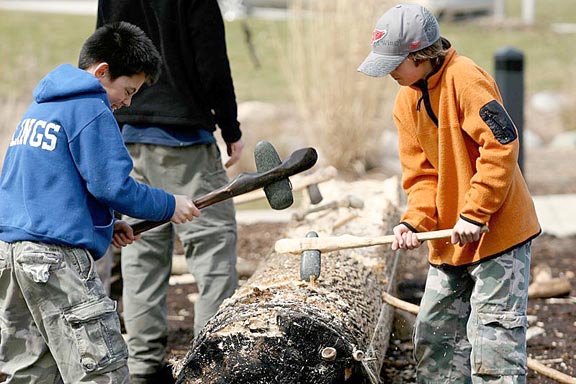 Stone tools for 80% of the work.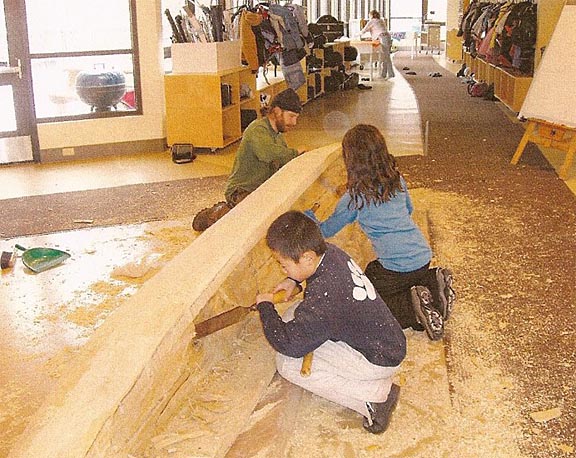 Working indoors at the school.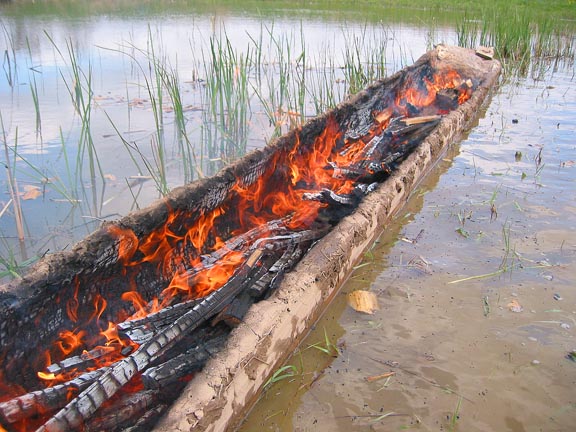 A most captivating photo, for me. Astonishing... The colors... Working the log with fire. Can't burn through in water... To help with the later chopping.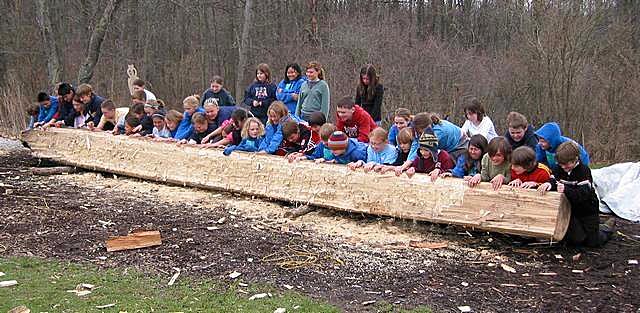 Rolling the split log.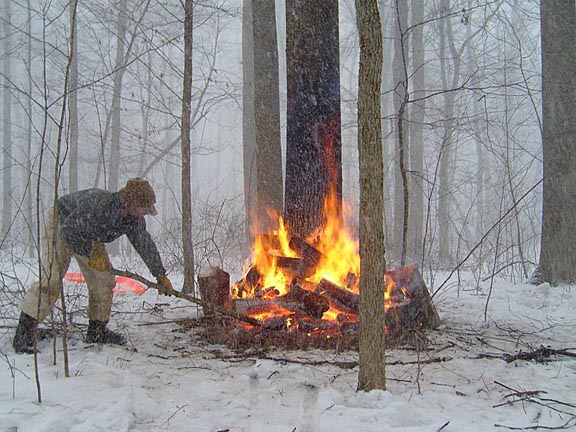 Felling the tree, the old way.