Ramps Season!
April 30, 2011
I think the deal is that before morel and wild asparagus season, it's ramps and fiddleheads season. Anyway, it's ramps season here in mid-Michigan right NOW.

Henry and I went canoeing the other day to train for our canoeing today. Today I found my first arrowhead. When we went out the other day, I picked some of my first ramps in decades. They were right where we did a canoe portage in the woods. So I dug up a pound of 'em. They're pretty. And they were tasty.

NOTE! When you pick wild ramps, leave half the bulb in the ground so a new plant can grow back. If you pick the whole bulb, or too much of it, nothing grows back in that place. Certainly if you pick down the roots that's the case. Think about the future! The plants can be "tight" in the ground and it's easy to be tempted to dig hard and around the whole thing to be sure you don't miss the tasty bit. Don't do it. Grub around to the white bulbish zone then cut right there without digging up any more. Cool!

They're also called wild leeks and they're between an onion and a garlic. And you use the whole plant like a green/spring onion.

Here's a link to a recipe that we used to make Ramps Pesto -- you blanch the ramps then mince 'em up into nice green pesto. Then you carmelize them with shallots. It worked out nicely. I'd say after cooking to toss in some meat like corned beef or prosciutto. I'd also use twice as many ramps as the recipe called for. More zing all around. www.seasonalchef.com/recipe0507a.htm

I've always had a soft spot for wild foods and plants. I might be heading harder in the plants direction these days. Foraging sounds good. I think I'll add a few classic wild edible plants and medicinal herbs books to my line-up. ...A couple by Euell Gibbons, for sure.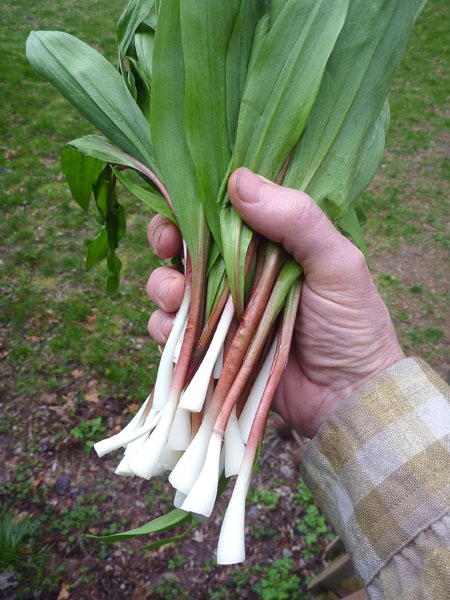 Ramps are picturesque. It's fun finding such tasty looking veggies in the woods. And they're so green and white that they beg for a photo. I notice that lots of people take this same photo. Prep the wild leeks them hold them out and snap.