Show Us Your Rigs!
August 14, 2006
Hey, people! I think it would be neat if folks posted photos of their fave adventure rigs via the Reader Remarks below. It could be their own rigs or ones they've seen. What I mean is pics of the vehicles and racks you use to get to your action scenes.

The latest rig that I imagine to be a fine one would be an old 4WD Toyota or Subie wagon with the roof and windshield sawed off. Put taller knobby tires on it and use it to cruise the 2-tracks of Americky. Or Michigan.

A small 4-cyl vehicle is all you need to cruise 2-tracks the thrifty way. It's best if the seats fold down or if it's a pickup. A quadrunner is too narrow for mellowest 2-track cruising (and illegal in many places). A moto (motorcycle) takes that paying attention stuff. It's a fine choice, but can't haul as much.

I also picture including bumper-hitch racks fore and aft to somehow rig up a boat rack (might also act as a bit of a rain-roof if done right).

But mostly I suppose I mean the rigs you use to get out and about. This category would eagerly include all forms of trailers and camper-toppers.

Let's see some pics!

(HTML works for the Reader Remarks, so you can include links to pics.)

I'm kicking this off with pics of our rigs of the past decade. The lead-off image is of the trusty old Town Car. Classy PLUS hauling ability! Try that, you SUV's! Then we have the current Volvo and a pic of the rugged old Buick of yore. Now, we've used these on a bunch of 2-tracks, but none have been what I'd call a great 2-tracker. Maybe someday! In the meantime, let's see yours! Someone has to have a well-used 2-track rig out there. Or trailer scene of some kind...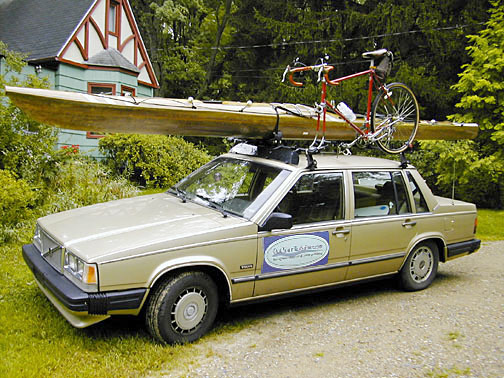 Here's our current handy rig, nicely caparisoned.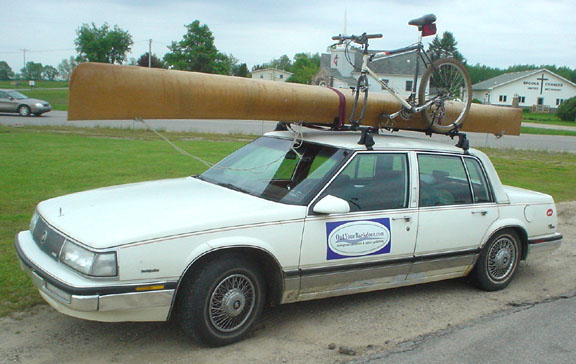 Ah, a trusty old rig.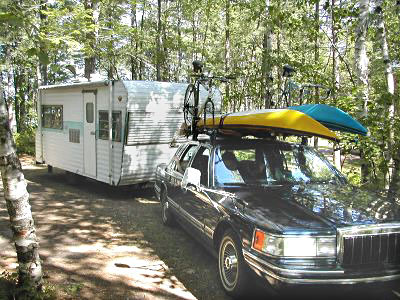 What a classy rig, pure family style!
sihorsky - , posted on Sep 10, 2006
Okay, I'd like to show your our current adventure rig, but I don't have a convenient link to pics. It involves a 91 Ford Ranger, a topper, a bike rack, and an 18 foot ger (yurt) that we've been lugging around. It's not convenient, but its been a lot of fun
JeffOYB - Williamston, MI, posted on Sep 10, 2006
Hey, if you email me your pic, I can put it up on my server, no sweat. Send away! --JP (jeff at outyourbackdoor dot com)
JeffOYB - Williamston, MI, posted on Sep 14, 2006
OK, Glenn wrote the note above and he emailed me a pic of his rig. As he says, his "house" fits into his truck, with bikes on top...




Thanks, Glenn! --JP