Making My Own Nessmuk from a Cleaver
June 19, 2007
A friend was selling his grampa's old butcher knife at a garage sale. It was huge, with a 1/3" thick maybe 14" long blade---more like a cleaver. But I saw another knife hiding inside it. I asked him if it would be OK if I chopped up the old knife and he said fine, let's do it! He wanted to see what would come of it all...

So I drew the outline of a new knife on the blade then borrowed a friend's angle-grinder and cut it out.

Too bad I didn't take a darn "before" photo!

Well, here's what I have now...

And here's another pic of where I think it's headed. I photoshopped it to make it an inch shorter, bringing the tip lower and more in line with the handle, and making the blade lots thinner---but still WAY stout and fine for chopping action.

It now has a 9.75" blade and it weighs about 2 lbs!

I got the blade shape idea from the Nessmuk knife---a classic smallish thin camp knife. So it's a huge, heavy Nessmuk. Meaning, not really a Nessmuk but it has the look. The hump on top gives it a forward weighting and heft for chopping. Right now the blade is so thick that it's a wedge that's even thicker than a hatchet. I want it thin enough to whittle with, to cut/chop kindling shavings and slice in instead of glancing off. A wedge shape doesn't like to whittle. A guy online at the rec.knives newsgroup called it a nice looking "smachet"---I guess that's a semi-military type of big, heavy chopping knife. They can also be used for digging. I'd use mine for limbing saplings, too---trail clearing.

I'll make a big ole sheath for it. Probably with a shoulder strap.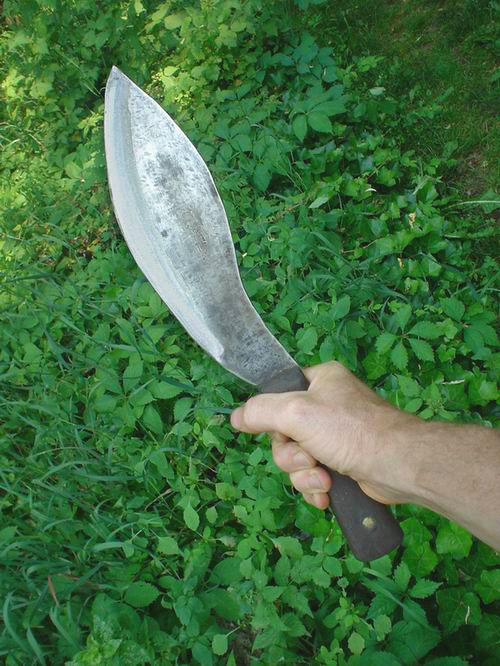 Big Nessmuk...now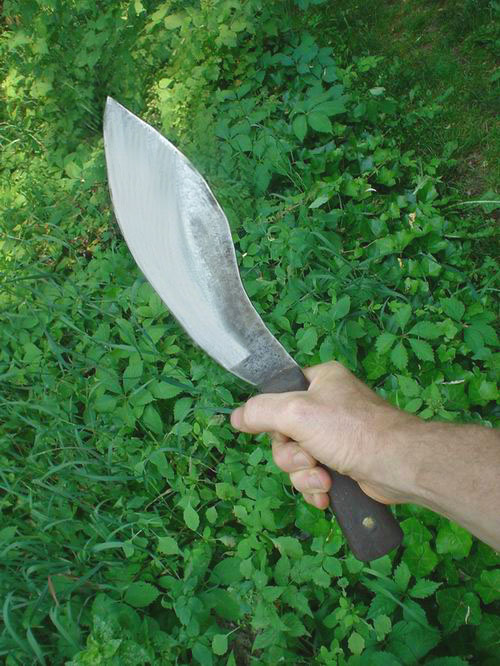 Maybe what it'll look like later...