Puukko & Mora Knives: Cheap, Great, Everyday Outdoor Blades...
April 22, 2009
I've been bumping into Mora knives quite often in my outdoor knife readings lately. For instance, the Ray's Way ultralight camping school has students make their own Mora style knife, which Ray Jardin declares to be the best all around camp knife. That caught my eye.

I've also noticed that they're cheap. Like $10. And it's from a 300-year-old company!

But they don't seem to be that widely available, not in the shops that I stop in at, anyway.

1/08 UPDATE! I've acquired a range of these knives now. What fun! The basic Red Mora is great. I also fell for a handmade $70 Roselli Carpenter---a knife that many buffs swear is their favorite all-time blade. The Heimo Roselli website is a dandy---the Carpenter ages well. I tried a plastic Mora with finger guard---nyah. I hefted Jarvenpa and Wood Jewel puukkos courtesy of RagweedForge.com. The Ahti Finnman at $11 looks good, too. ...But what really swept me off my feet is the Ahti Metsa ("Forest") from Ragweed. It's twice the knife of the others! What a worker! It just jumps to my hand and cuts with no fatigue or slip. $50. (The sheath is very nice, too.) It's the handle shape that's such a stand-out: it has a barrel-swell in the middle and a hook on the end that fits my little finger perfectly. The Scandi grind (half the width of the blade) made this blade whittle and cut like a demon. I'd say my hands are average. When you finally try a great handle you realize how important they are. The Lapin Whittler is similar, $45, but in the end it doesn't hold a candle to the Metsa. But, ya know, every hand is different. Blade length and thickness seem best to me at about 3.5" and .1". Handle length: 4.25". But YOUR fit is what matters. But, boy, I love that Metsa! If you shop Ragweed, tell him I sent ya! I hope this doesn't get him mad at me, but these are unusual knives: how are you to know what you like? ...If you order a few, heft them, then return the ones that aren't for you (in "same as" condition!) Ragnar is fine with that. Hey, here's an $18 puukko that looks jimdandy. Based on the ones I've used now, I bet it's a winner: www.knifecenter.com/kc_new/store_detail.html?s=FinnM571.

UPDATE 11/08: I see that Ben's Backwoods---an OYB advertiser!--has a couple knives shaped a bit like the Metsa that are probably worth trying. Here's one for $32: www.bensbackwoods.com/servlet/Detail?no=428. And a fancier one for $90: www.bensbackwoods.com/servlet/Detail?no=360

UPDATE 4/09: Ragnar was out of stock on the Ahti Metsa, but now I see that he has them. IT'S A GREAT KNIFE! I've been using mine hard every week for whittling Osage sticks for bike luggage. It's hard work! And it's the only knife for the job. My hands would've given out with any other handle shape.

The main deal is that these knives seem to have a simple blade shape and a very simple oval handle. Mostly without finger-guards.

They're also often done in cheesy seeming plastic or low-grade seeming plain wood. The blades also often have a tinny look.

Along with the Moras that I've seen, I keep bumping into references to Puukkos. This is the Finnish variant. It seems basically like the same knife. Only different. (Actually, I've also heard that the Finns are the worst country for knife-fighting. With puukkos. Ouch! Maybe it's just those long nights?)

But here's the clincher: when I recently attended the Great Lakes Primitive Skills Gathering on Bois Blanc Island I saw these Mora knives everywhere! Everyone was carrying them and they were laying around everyone's work tables and campsites. I saw them used a lot and the ones I saw kicking around surely had been used a lot. The campers said that a guy is usually there selling them. And everyone uniformly said they were great knives, their favorites. ...And I found that their very utility-looking style grew on me. What good is a plastic sheath? A lot of good! (They have drainholes.) What good is a brightly colored knife handle? A lot of good! ---If you're actually kickin' around in the woods cuttin' stuff a lot, that is. So I'm going to get off the stick and test a couple of these blades myself. They come in four types and all seem to have strongpoints: laminated, triflex, carbon (nice edge) and stainless (if you're going to get wet). (Next time I might go for one with a thinner carbon blade than the laminated one that I got---I didn't realize how nice a thinnish blade is for woodswork. Thick blades are for nonknife work, really---your "tactical" stuff.)

Really, they seem a lot like whittling or carving knives. Well, that's what ya do with knives a lot of times! They also have a bit of a kitchen look. Again, hey, I use my knives with food every day! (I felt a little funny using my Spyderco tactical folder at dinners during the Gathering...)

Ben's Backwoods shop is a Michigan outfit that resells a bunch of different Moras at "easy to try" prices, along with a bunch of other simple, practical outdoor sundries. Also, he's a great source for a book that comes very highly recommended, which I hadn't heard of before, and which isn't in our entire state library system: Mors Kochanski's "Bush Craft." He's located up near our trailer just north of Baldwin. Check em out: www.bensbackwoods.com

Here's the main homebase for Mora manufacture (not resale): www.frosts.se. These are the folks who have been making these SAME knives for 300 years. Yo!

Here's a place for a wide variety of blades as well as puukkos of many grades: www.ragweedforge.com

Remember that $18 puukko: www.knifecenter.com/kc_new/store_detail.html?s=FinnM571

This general type of knife is also called a "Sloyd" knife---which is a standard utility and woodworking knife of Scandanavia---it's also a common knife for electricians, for stripping off wire housing. In the outdoor scene you hear more often about Moras and Puukkos---in the crafts it's the "sloyd." It has a modest blade and the barrel-shaped handle that works so well for whittling (but I find that a little-finger hook really caps off a knife).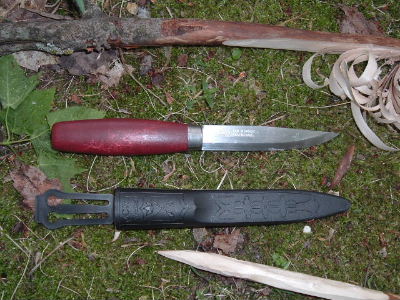 Here's the classic Mora knife...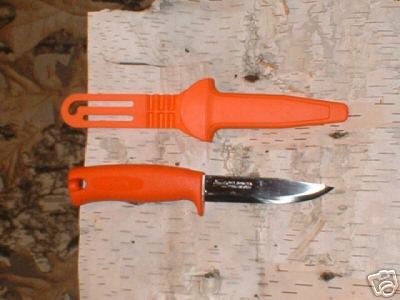 A bigger image of a plastic Mora.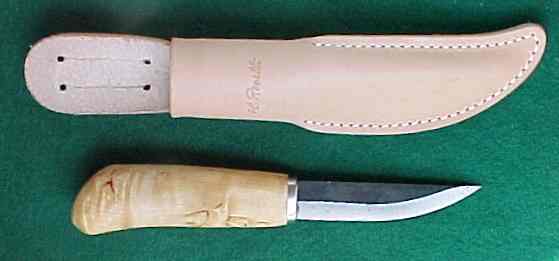 Here's a puukko from Ragnar's Forge.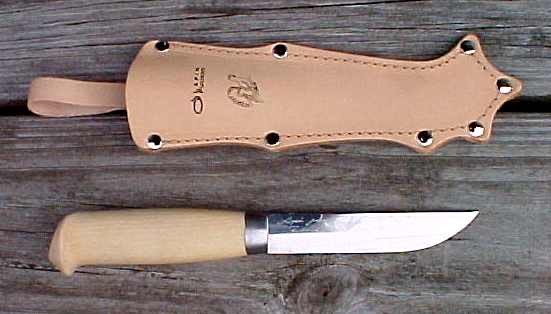 Lapin Whittler. $45 from RagweedForge.com. The handle shape is the main thing. What a whittler! Blade length of 3.5" is just right. Spot on!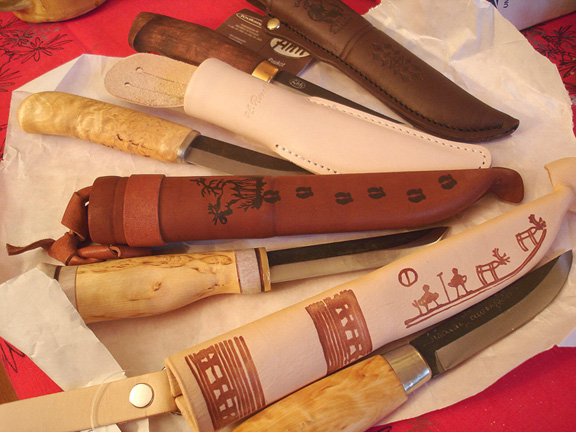 Ah, a treasure trove of Finnish knives to heft... The top one is the Metsa---it won out easily and by far. The 2nd is the sexy Carpenter. The bottom two: surely sweet, but not for me. Too bad you can't see the center swell of the Metsa handle...that's the ticket for me.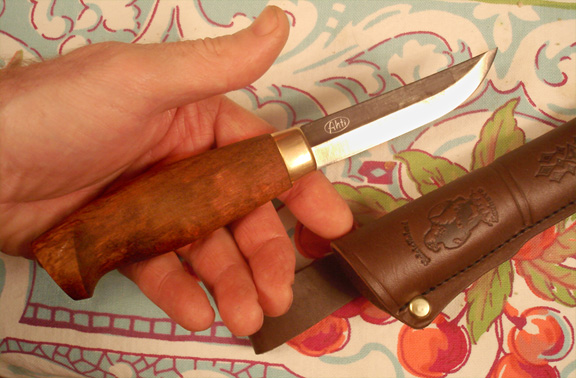 Here's the winner. For me. For my hand. The Ahti Metsa. The handle is the key. I grab it and don't want to let go. The blade is an astounding worker---whittles like it's on fire. That's the Scandi grind for ya.